Consolidate job management, monitoring, reporting, and alerting in a single—yet powerful—cross-platform solution.
Automation for Any Platform
Run jobs across Windows, Linux, UNIX, IBM i, zOS, and OpenVMS. Plus, databases, BI tools, ERP systems, and more.
Code-Driven Automation
The only job scheduling solution engineered on the .NET framework, works seamlessly with PowerShell, and allows you to reach API endpoints in any system.
Outstanding Customer Experience
JAMS is more than just software—we're your automation alley. Our hands-on support and services not only differentiate us but make a difference for you.
Fill out the form to request pricing and a member of our team will be in touch to discuss your unique requirements. Then, we'll put together a personalized quote based on your needs.
JAMS Customers Rate Us a Leader in Workload Automation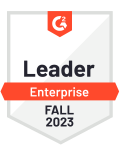 Several of us evaluated other options, but JAMS was what we all came back to because it was the only software we found that could do everything that we needed it to do for all the different kinds of data that we get.

– Kammy O., Network and Local Support Manager via PeerSpot
ORGANIZATIONS TRUST JAMS FOR END-TO-END WORKLOAD AUTOMATION