JAMS is enterprise job scheduling and workload automation software for IT teams that simplifies running, monitoring, and managing your organization's critical business processes. Try it free by following these three simple steps:
Fill out the form to obtain your JAMS trial download immediately.
Apply your trial license key when you launch JAMS. We'll send an email notification with your credentials to log in to the Customer Portal.
Consult with our experts to ensure you get the most out of your trial.
Download your trial of JAMS.
JAMS Customers Rate Us a Leader in Workload Automation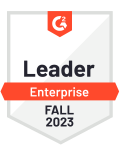 An overall excellent and robust automation tool. JAMS has plenty of features to allow users of different skills to accomplish what they need. I specifically enjoy JAMS's PowerShell snap-in that allow me to run JAMS commands through PowerShell scripts.

– Anonymous mid-market user via G2
Why Choose JAMS?
JAMS is a powerful workload automation and centralized job scheduling solution. JAMS enables users to run an unlimited number of jobs behind the scenes—all with greater visibility over your whole environment.
Automation for Any Platform: There's no need to use disparate tools to schedule your jobs. JAMS automates jobs. Automate on any platform, including Windows, Linux, UNIX, IBM i, zOS, and OpenVMS. Plus, JAMS has native application integrations to run jobs on databases, BI tools, ERP systems, and more.
Code-Driven Automation: Have an environment with custom-built executables or use cases with complex logic? JAMS allows you to take our automation code and define your business logic in your jobs—the way you want it. JAMS is the only job scheduling solution engineered on the .NET framework and PowerShell.
Centralized Job Scheduling: Define, manage, and monitor critical jobs through one centralized console—from simple batch processes to scripts to complex, cross-platform workflows. JAMS provides seamless, unattended job execution, allocating resources to run jobs in a sequence, at a specified time, or based on a trigger.
Outstanding Customer Experience: JAMS is more than just software—we're your partner on the automation journey. We'll be with you every step of the way, offering hands-on support and services that not only differentiate us, but that make the difference for you.
ORGANIZATIONS TRUST JAMS FOR END-TO-END WORKLOAD AUTOMATION
Looking for the Cloud Version of JAMS?
Get JAMS from the following cloud providers.